Rubino Restaurant
Care and tradition on the table
Our restaurant is called Rubynot only because of the presence of the colour red, but because it is a service we value highly. Our historic chef enriches each course with care, refinement and passion to offer you elegant and sincere menuscapable of satisfying even the most demanding palates. .
La dining roomlike the entire hotel, is air-conditioned and this allows to have lunch and dinner with taste even during the most sultry days
NEW: This year in our restaurant you will find a wine list amazing, thanks to our collaboration with the Enio Ottaviani Cellars!
Breakfast, lunch and dinner
Leave the scales at home
Breakfast is a feast of homemade cakes and pastries produced directly by our chef. In the Rubino restaurant you can start your day with the right charge thanks to tasty and refined delicacies that will give your good mood an extra boost.
At lunch and dinner we offer three alternatives with fish always presentboth at lunch and dinner. It is nice to be able to enjoy the scents and taste of seafood dishes related to our tradition, alongside more classic Mediterranean menus.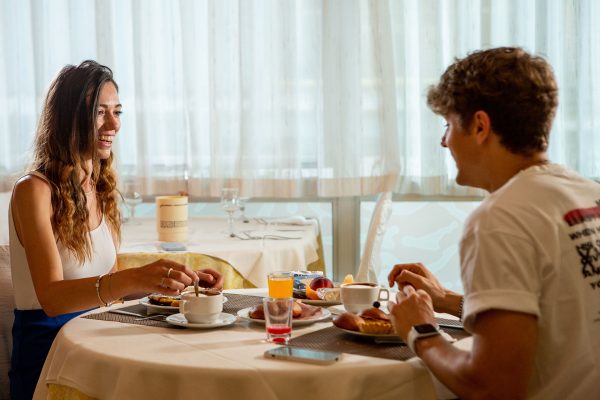 Specific menus
Alternative proposals
We like to make you eat well and a lot even if you have special needs. In fact, we are also equipped to meet on request the needs of those who prefer a lighter, dietetic cuisine. 
But also people celiac and vegetarianby notifying their needs, they can count on specific and carefully prepared menus... delicious of course.
Children first
Cheerfulness is served
Children always have a place of honor at Hotel Dusseldorf and are welcomed with specially set tables, Comfortable high chairs, specific timetables and menus according to their habits. That way your baby can take his time eating while you relax.
In addition, during the summer period is also active the new entertainment service during meal times, from 12:30 to 14:30 and then from 19:30 to 21:00.
The professional entertainers of our beach will entertain the children in the hotel's playroom, who can also have lunch and dinner with them.
Reviews
The title of the review I think needs no further comment. Great hospitality, proximity to the sea, great food ... Thanks to Federico Giulia Margherita Laura Roberto Daniela ... a big hello from Samuel

dancerall

We stayed at this hotel for 17 days in June and we will be back in August because the Dusseldorf Hotel in Rivazzurra is a certainty.clean, comfortable and good size rooms.at the reception Federico and Margherita ready to welcome customers with a joke and a smile.open owners and always willing to listen to the needs of customers in order to satisfy their needs.a strong point the kitchen...

Elisa M

Our weekend in Rivazzurra was particularly nice thanks to the hotel Dusseldorf. Clean environment, owners courteous and kind and ready to meet with a smile on his lips the needs of guests. Discreet rooms. Good value for money.

Ris D

We spent only one night, because in support of a trip to Mirabilandia of two days. The staff very nice and friendly, in general very clean and comfortable. The location so close to the sea is not to be underestimated for a summer stay. We had a good dinner and breakfast was pretty well stocked. I recommend it

Romina B